Once a BCISer, Always a BCISer!
BCIS Alumni Wall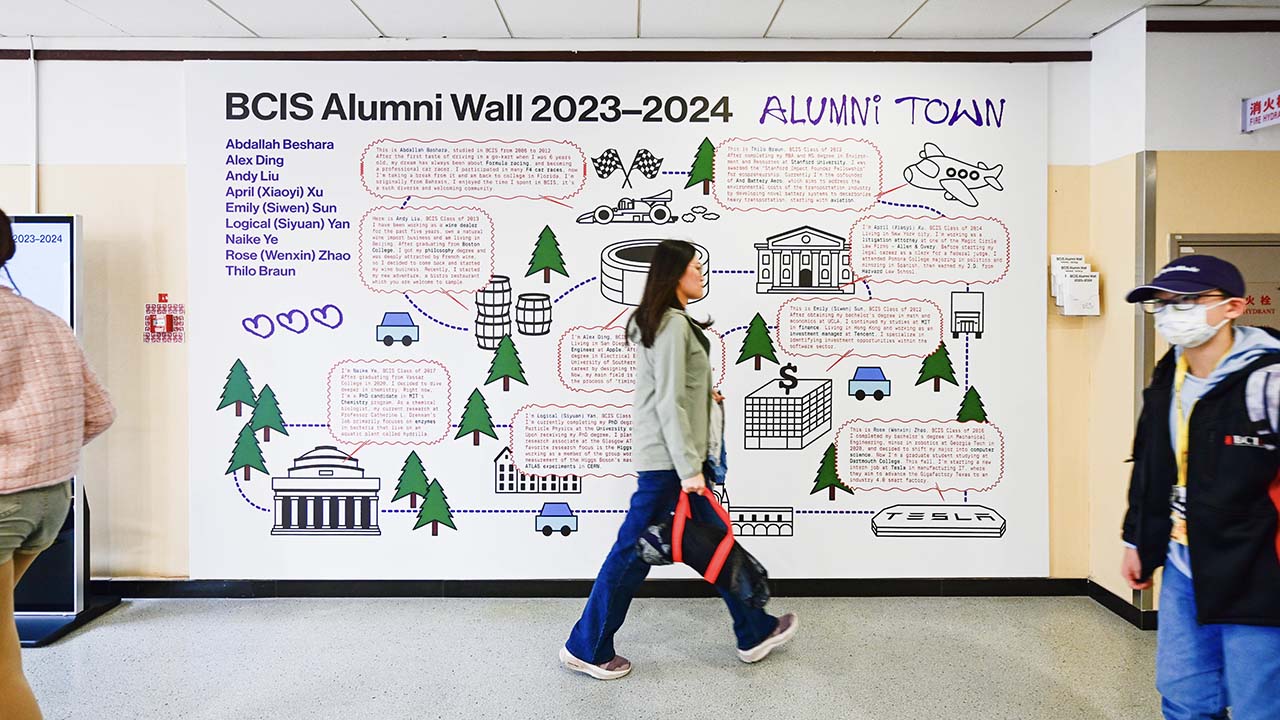 BCIS Alumni Wall is at the entrance of Secondary School building. This will be a long-term, annual project, a collaboration between alumni ambassadors and student volunteers. The Alumni Wall showcases the achievements of different alumni in different fields, inspires students to follow their passion while living the BCIS mission wherever they are around the world.
Alumni Wall 2023-24 Visual Design: Mao Youran
Alumni Wall 2022-23 Visual Design: Zhuang Yuan
Upcoming events
Alumni Open Day – June, 2024
Previous event
New York Alumni Association pickle ball game – October 2023
10 years celebration for Class of 2013 – May 2023
Check more previous events highlight in Alumni portal
Alumni student online discussions – November, 2023
Student hosts will discuss the questions they are interested in and learn from their senior peers, related to the following majors: Aviation & Engineering, Biology, Psychology, Business
Alumni Portal
https://alumni.bcis.cn – communication hub for BCIS Alumni
BCIS Alumni Portal is an exclusive communication hub for enhancing our BCIS Alumni Network, designed by four alumni, Rose, Tom, Hower and Crystal, in cooperation with BCIS IT department, coordinated and operated by BCIS Alumni Relations Team.
In this alumni portal, you will see other alumni's updates, recent BCIS Alumni newsletters, upcoming alumni events details and all graduation photos since 2009.
Looking forward to meeting with you in BCIS Alumni Portal.
Alumni Pass
We offer the Alumni Pass for alumni who live in Beijing and will use school facility regularly. Alumni Pass should be renewed every three years.
Want to apply for your Alumni Pass? Click here PDF
Visit BCIS
If you only come occasionally for an event or to visit your teachers, please contact Alumni Relations Office through email, Instagram or WeChat 3 days in advance.
If you are under 18 years of age, BCIS offers a one-day visit program for students who want to visit and experience school day with their BCIS friends. This requires permission from teachers and Principal in advance.
BCIS Alumni Relations Team works conscientiously to:
Keep alumni connected with BCIS community and informed about its news
Connect alumni with each other and with current BCIS students for mutual benefits
Organize local and international alumni events, work closely with alumni ambassadors, student volunteers
Help alumni with visiting BCIS campus and using school facilities
| | |
| --- | --- |
| Gaia Zhao – Alumni Relations Officer | Eva Dong – BCIS New York Alumni Association leader |
BCIS Alumni Network

Connect with us!
WeChat: BCIS Alumni Group
Instagram: bcis.alumni
LinkedIn: Alumni Relations
Email: alumni@bcis.cn
Portal: www.alumni.bcis.cn
Phone: +8610 8771 7171 / +86 185 1056 274