Feb 09 2022
UNIVERSITY EARLY OFFERS ARE IN!
Grady Singleton
It is an exciting time here at BCIS! Our BCIS Senior Class has been hard at work balancing their rigorous studies, assessments and comprehensive college applications, and the results are finally starting to flow in. The outstanding Seniors at BCIS have already received offers from prestigious universities around the world, including University of Cambridge, New York University Stern School of Business, University College London, and Hong Kong University. How did our students find their best-fit university, and how did BCIS support them as they applied? Our school counseling program, and our University Guidance Counselor, Charles, guide our Secondary School students throughout the whole application process, providing them with the help and support they need to find and get accepted to their best-fit school.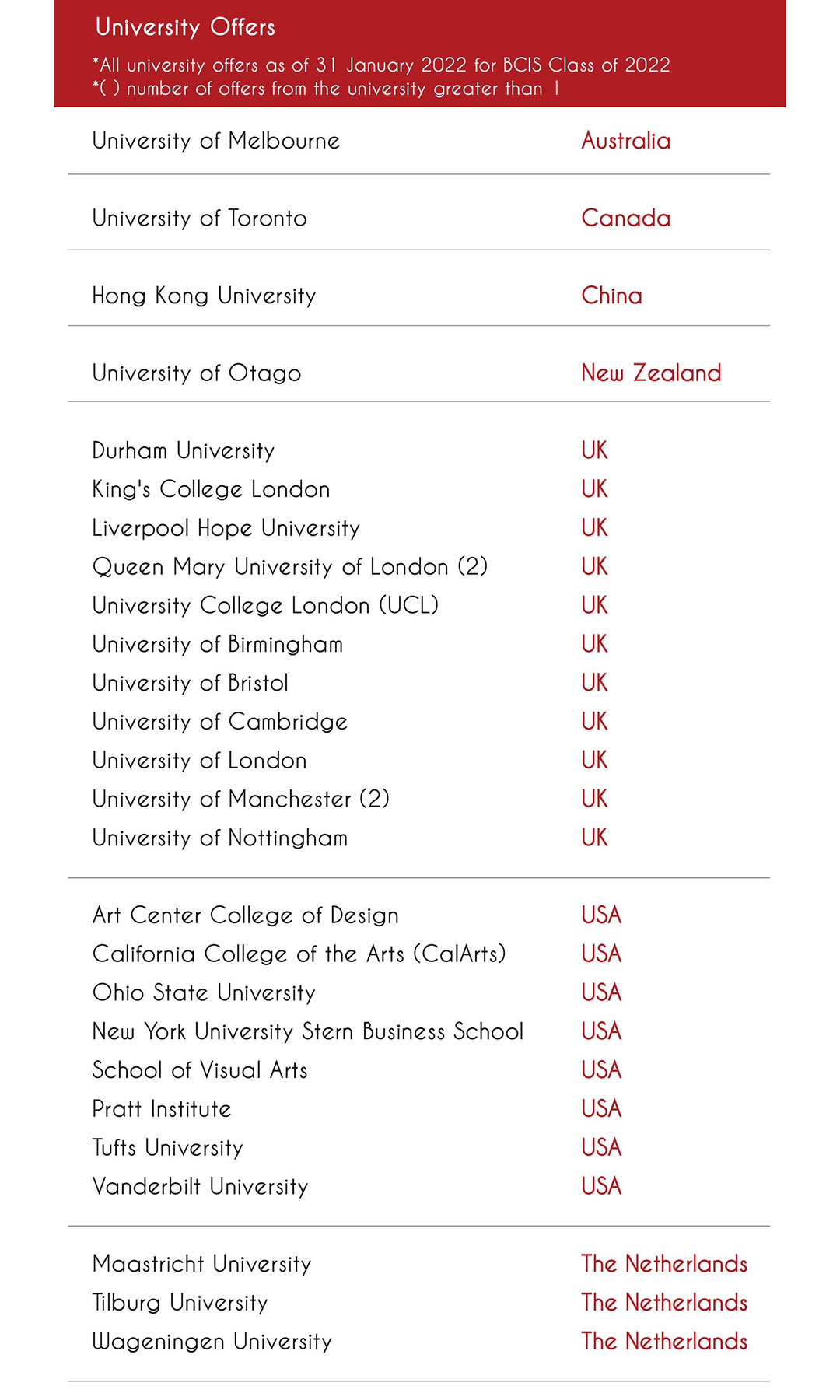 BCIS provides a robust counseling service that begins in our Early Childhood Center and expands through Elementary and Secondary Schools. Our counselors meet with students regularly both individually and in groups to ensure all students receive personalized and in-depth support. To prepare for university applications, our counselors start meeting with students when they reach Grade 9 to give them a head start on finding their best-fit university. In Grade 11, counselors help students identify the schools and programs that best match their interests and learning needs, and students start the applications that are already open, such as the Common Application for schools in the United States. This puts students on track to complete and submit successful applications in Grade 12, as they have already prepared most of the materials the previous year.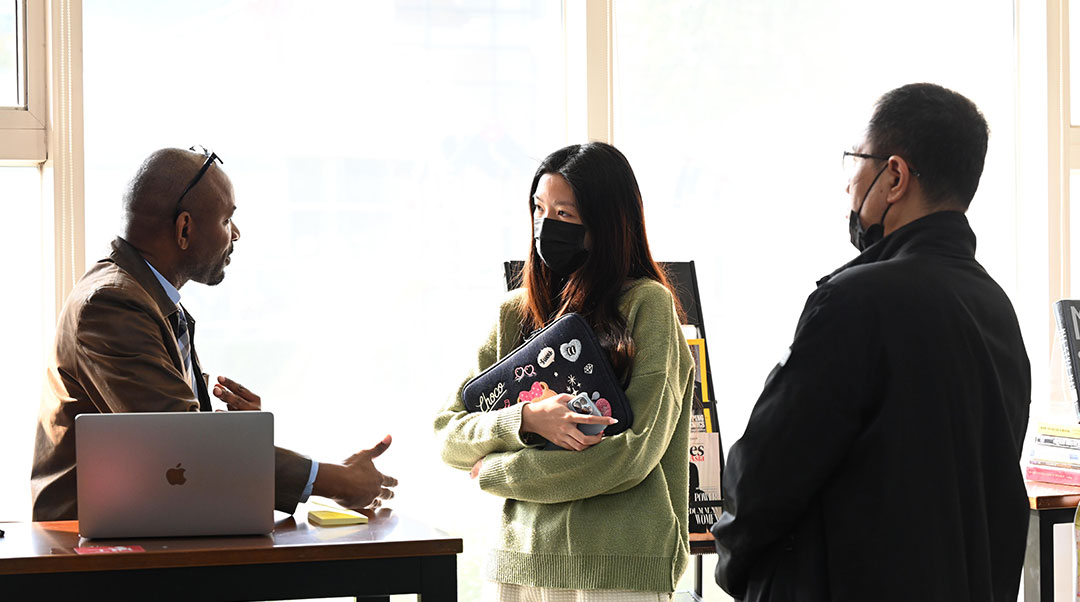 In addition to helping students face the daunting task of choosing and applying to universities, BCIS counselors also work closely with the parents of our High School students to keep them involved with the application process. Our counselors start meeting with parents when the students are in Grade 9, to give them updates on how to support their children as they plan to apply for university. These meetings ensure that parents are as well prepared as the students, to help both groups succeed with stress-free applications. The community here at BCIS ensures that students and parents are closely connected with staff, supporting our students to embark on the next stage of their learning journey.
Our University Guidance Counselor, Charles maintains an open-door policy, so students can stop by his office any time. This helps the students feel more comfortable on their applications and helps Charles to better understand his students. In this way, they can work together to find schools that match each student's personal requirements. For example, some students may need to know more about the grades they will need for certain top universities, while others may need more help finding specific programs or campus environments that best match their wishes. As Charles explains, "The goal is for students to be successful and happy." The BCIS counseling program continues to help our students find, apply to, and get accepted to universities where they can thrive and be happy, and BCIS congratulates our Seniors who have received early offers from the schools listed above!
With the help of BCIS counseling, our students go on to pursue their passion in many wonderful universities all over the globe. One of our outstanding alumni, Logical (Class of 2015), has gone on to pursue her PhD in particle physics at the University of Oxford. Her current cutting-edge research on the Higgs Boson is just one of the many examples of how our students have continued to be changemakers after their time at BCIS. No matter where they choose to go, our BCIS alumni will be well-prepared for their future educational journey.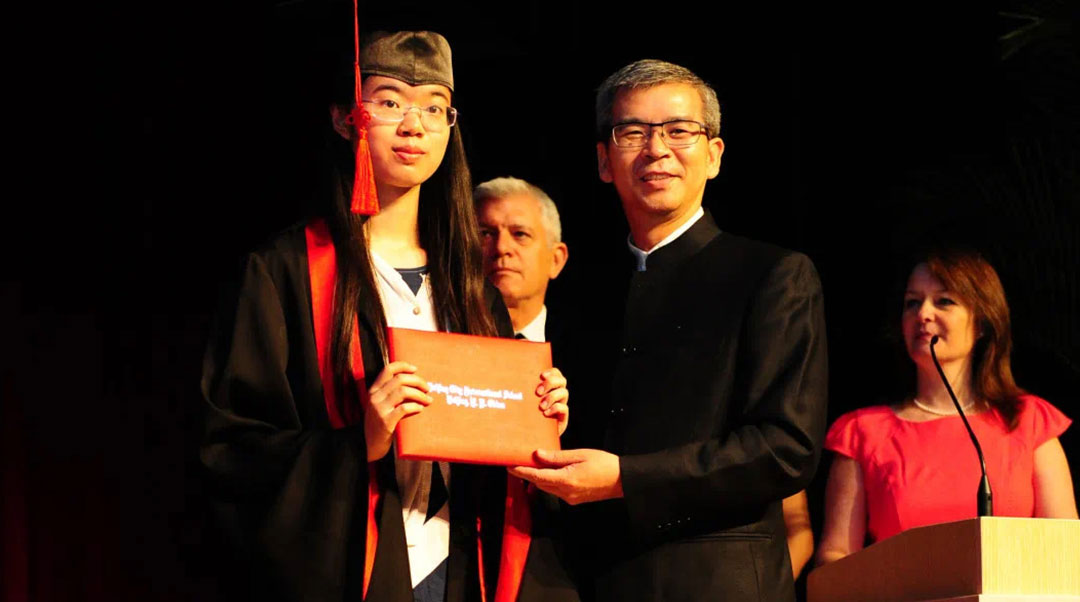 Our BCIS alumni are always part of the BCIS community, and often have the chance to reconnect with current students at the school. Recently, several of our alumni returned to the school on online Alumni Panels to discuss their own experiences and give advice to current students on university applications. One of our alumni panelists, Annie (Class of 2019), is currently studying philosophy and integrated design at The New School in New York. She explained her thoughts on the college preparation provided at BCIS, stating, "I feel like BCIS prepared me really well for college. The process of adjusting to college was really natural, and I really enjoyed my time at BCIS and at college." Annie, Logical, and all of our alumni will take what they have learned at BCIS and use it to shape the future all over the world. If you want to shape your future and find your best-fit school, apply for BCIS today!