Nov 21 2021
SHAPING OUR FUTURE
Grady Singleton
With the Chinese Lunar Calendar marking the Start of Winter, we have reached a season for reflection and preparation. Our BCISers have had an eventful year, but there is little time to rest, as we look to plan the future of our school together. At the beginning of the month, BCIS hosted the first in a series of panel discussions open to our students, family members, and community, titled: "Shaping our Future". The purpose of this intimate conversation was to come together to discuss the rapidly changing educational environment, at BCIS, in China and around the world. What will the future look like? "Shaping our Future" may not have all the answers, but it will provide a forum to discuss and take charge of our future of BCIS!
Changes, and challenges in a post-pandemic world
On November 2nd, audience and panel members came together for a lively evening, sharing ideas on the future of education at BCIS. Comfortably seated on an intimate and cozy array of couches, the four panelists invited our audience to share their input as well, as this would be a night of open discussion including the entirety of our wonderful BCIS community. Speakers for the night included current Grade 12 IB Diploma Programme student, Christina; alumni and soon to be PhD student at Tsinghua University, Tian; BCIS parent and Distribution Manager for Universal Pictures, Kathy; and noted psychologist, Dr. Theo. They would all join our host for the evening, Head of School, Tom, to bring wide ranging perspectives on the importance of keeping connected in a post-pandemic world, and how BCIS can adapt to continue preparing our students for the future.

When asked about the challenges brought about by the pandemic, our guests were able to use their extensive experience to discuss both the negatives and positives brought about by the rapid unforeseen changes. Tian, who is currently completing a master's program at the University of Chicago, explained some of the benefits from the new educational model of remote learning, stating, "Knowledge and information are no longer constrained by geographic limitations." He described this new access to knowledge as an important advantage for schools to keep in mind, saying, "From such a perspective, COVID actually fosters this kind of communication, cultural exchange, and international education."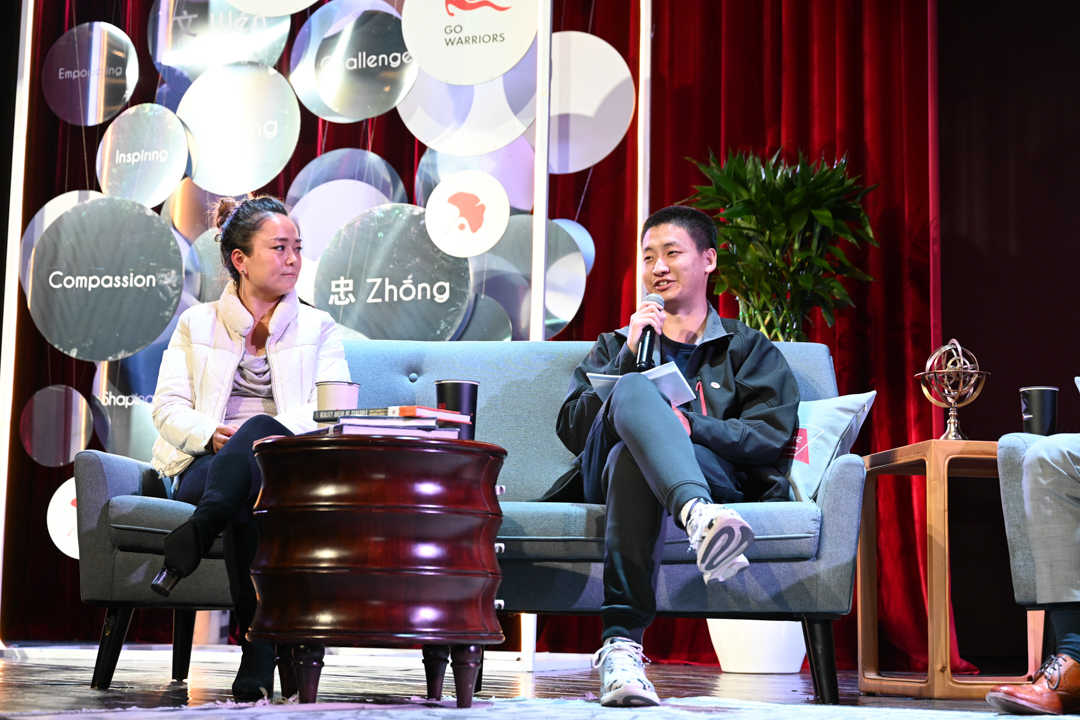 However, as many of our guests expressed, the pandemic also brought about many hardships for students and educators alike. Although some learners benefit from the access to information and flexibility of scheduling that accompanies online and hybrid educational models, others struggle to keep up. Hearing these perspectives from our panelists and community members demonstrated the importance of BCIS continuing to find innovative and future-focused ways to follow its mission of "empowering and inspiring" students. The focus on transferable skills and learning impacts that is already a key part of the curricula at BCIS is important in preparing our students with the tools they need to deal with any future challenges, some that we may not even imagine.
The importance of skills, wellness, and passion for BCISers
Christina, who is currently in Grade 12 at BCIS, expressed how the school helped her gain valuable skills that helped her in her studies and prepared her for life beyond. She believes that leadership is one of the most valuable traits she has gained at BCIS, and it even helped her win the Future Business Leaders of America competition this past year! She described how she was inspired to learn this talent from her fellow classmate, stating, "I was first introduced to this competition when I was in Grade 10, and it was a senior named Lisa who introduced me to it. It was her who helped me get materials and get books and go through the competition. This inspired me of some important leadership traits that people should possess to be a good leader." Leadership is an important characteristic for people to possess in a post-pandemic world, and the collaborative learning opportunities offered at BCIS help students to access such skills while pursuing their passions.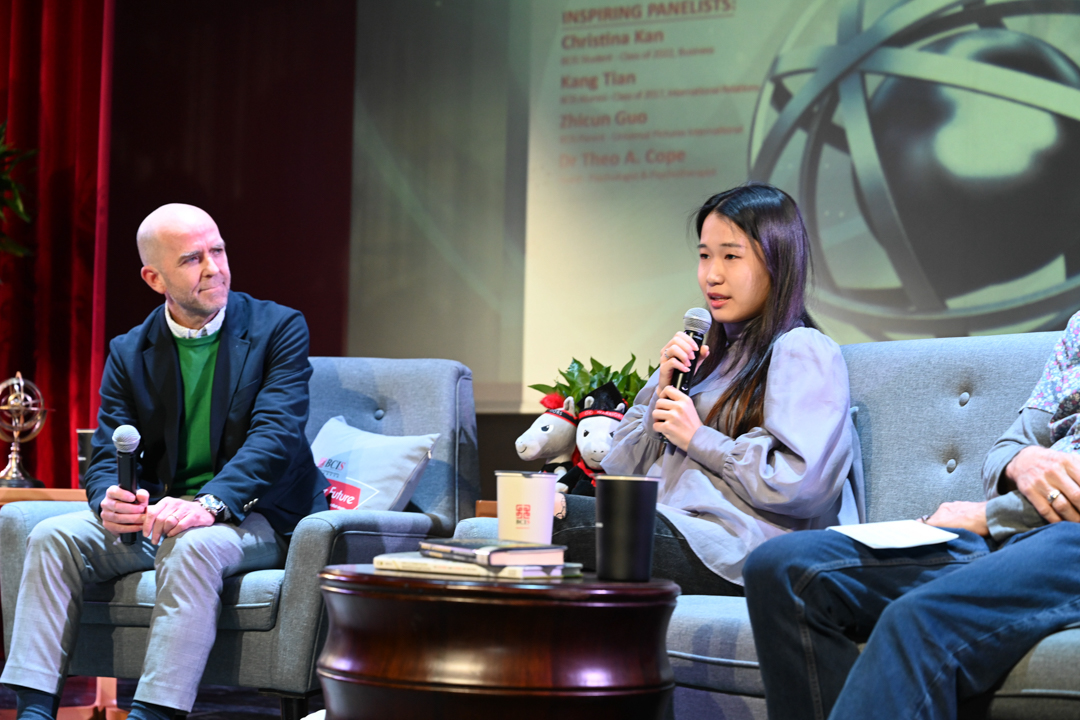 Extracurricular activities, such as the business EA and competitions that our students are involved in, are a great way for students to gain practical experience in their fields of interest. As someone passionate about her exciting career in the movie business, Kathy was able to advise students on the importance of enthusiasm in work and learning, saying, "Try to be a dreamer. Try to be positive. People may call you a dreamer, but it's not a bad thing to me. Just try to think what you do is meaningful."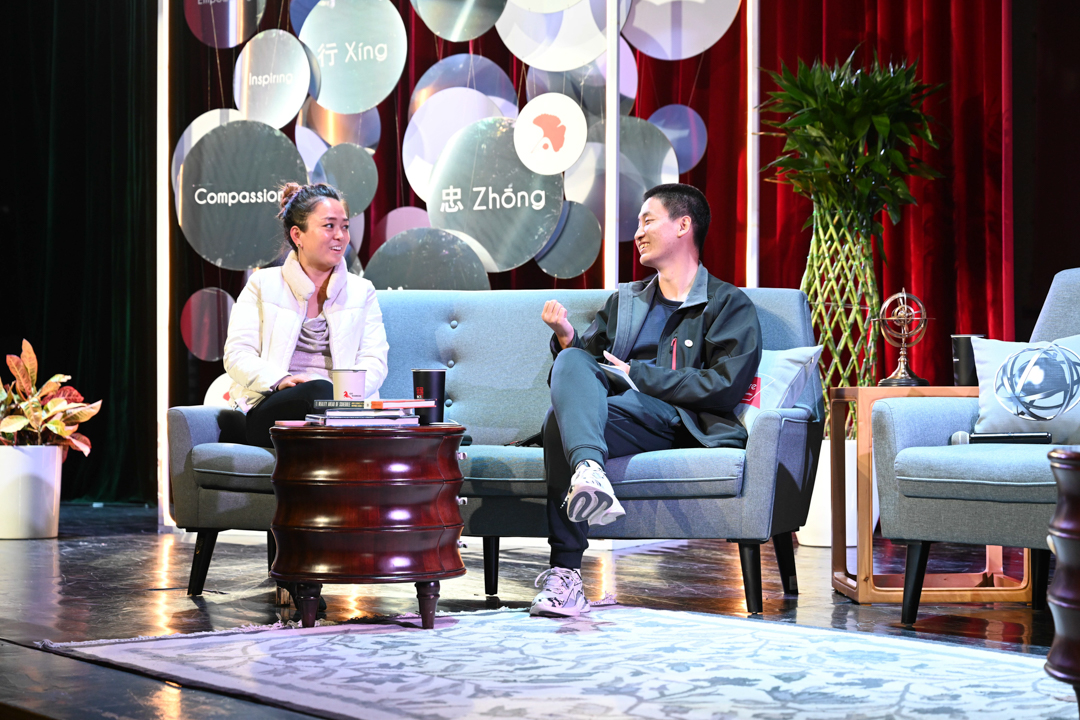 Our school creates opportunities for students to discover meaning in their work, helping them to find their path for future endeavors. Taking an individualized approach, our school advisors and counselors assist students in their daily tasks as well as help them achieve their long-term goals. An important focus here at BCIS is on wellness, which may become even more important in the coming years. As Dr. Theo said when asked about the added stress during the time of the pandemic, "During the pandemic, for every single one of us alive, every mechanism, every way that our life was, had become shifted. Schools will eventually have to take care of and tend to these issues." BCIS will continue to work hard in supporting student and staff wellness and support each other as a community.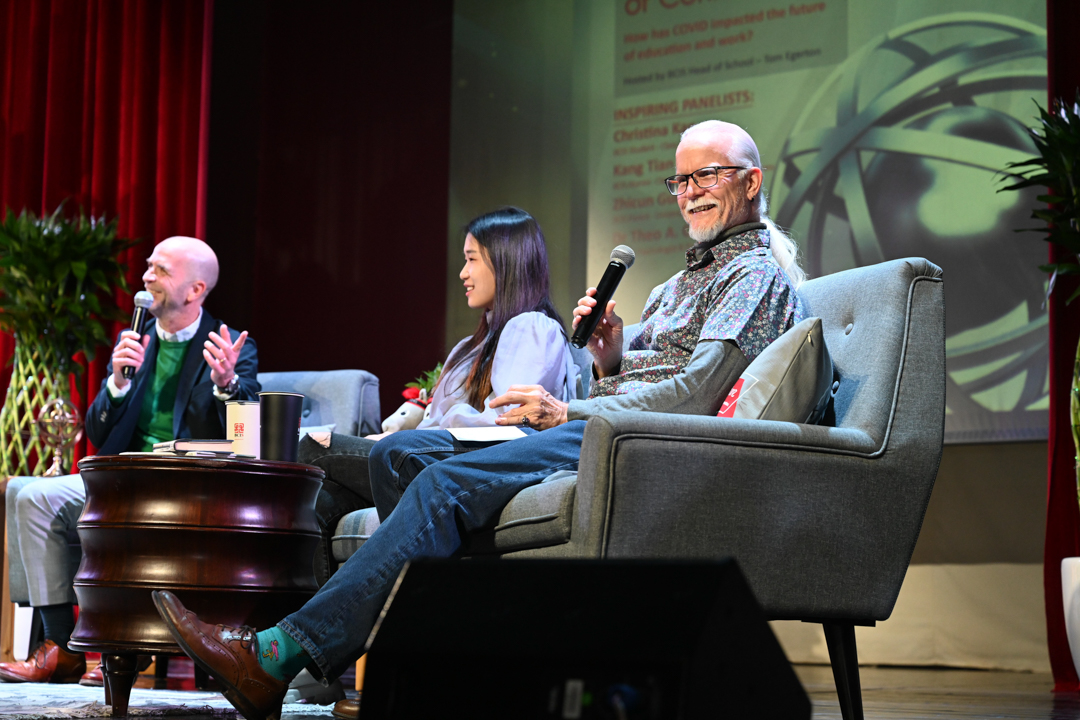 Wellbeing is certainly one of the integral parts to the future of schools all over the world. Ellen, one of the parents in the audience, commented about another important aspect for schools, stating, "What is the future function of school? I think it's more on the social-emotional and community side." BCIS prides itself on its strong community and will continue to rely on the wonderful contributions from our community members going forward. While we cannot be certain of the future, we are sure our students will continue to enjoy a forward-thinking education in a welcoming and inspiring learning environment.
Shaping our future at BCIS
BCIS is already working on many of the issues mentioned in our "Shaping our Future" event. The robust Advisory Program and student counsellors work for the wellbeing of our learners. Meanwhile, academic curricula such as the Secondary School's IDEATE program, empower students to design their own academic path in areas of personal interest, while simultaneously gaining important experience and skills in their future fields. Our myriad of Enrichment Activities, which take place outside the curriculum, further enable students to find and follow their passions. Julie, Chief Academic Officer at YueCheng Education, believes that this engagement is what sets BCIS' education apart, saying, "Our students, from the youngest to the alumni who are now working all over the world, show confidence and passion in what they do and believe it." As our panelists mentioned, transferable skills, a focus on wellbeing, and finding meaningful pursuits set our BCIS students up for a wonderful future, whatever that may be.

Our school will continue looking for ways to improve the experience we offer our students. The pace and scale of the changes we face today, and in the future, means we must continue to adapt with and for our learners. Along with the dialogue we engage in with the "Shaping our Future" series, we will be seeking feedback from all over the BCIS community to find the best approaches to education for our students. Our Head of School, Tom, mentions how this stage of reflection and planning for the future is important for us, saying, "This is an exciting opportunity for the school to really think big and bold, and I'd prefer the school to be aggressive and take some risks rather than be traditional and go back to pre-COVID, because the world has changed. I think we're on the way!" This is truly an exciting time to take part in shaping the future of BCIS!