Mar 31 2022
What Inspires BCIS Artists?
Grady Singleton
Behind every piece of art is a story. At BCIS, students studying art are learning more than just the technical skills they need to put paint to canvas. They are finding unique and impactful ways to express themselves, and converse with others using the universal language of art. BCIS recently hosted student exhibitions around the school to share their creative concepts and designs with the school community. BCIS students learn to create purposeful art, that goes beyond beautiful aesthetics to inspire and empower others.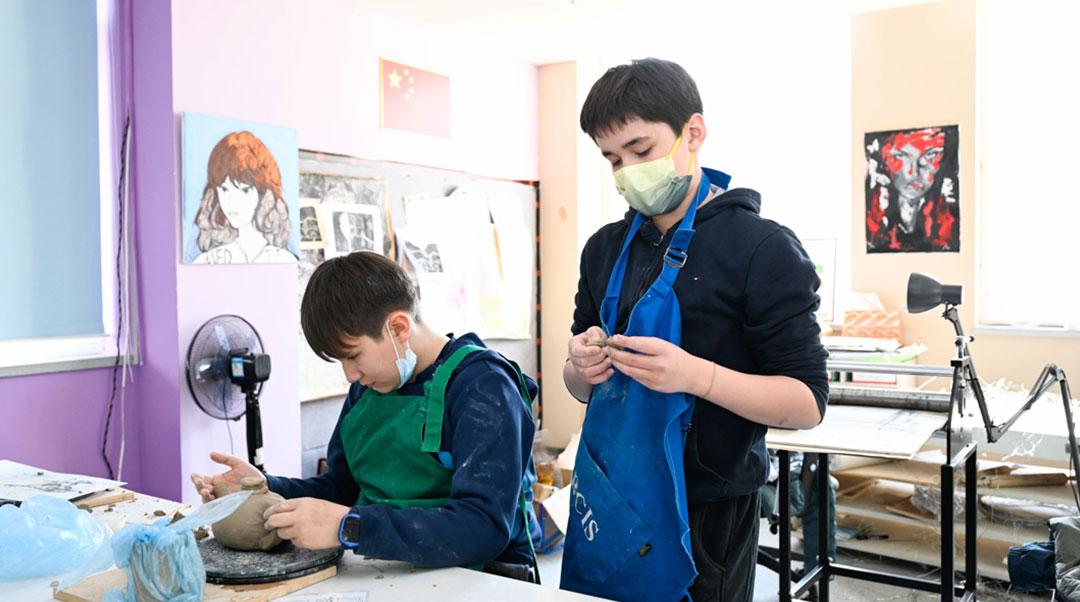 Our very youngest students begin developing their creative thinking skills through purposeful play-based explorations in our Early Childhood Center (ECC) and refine these skills through inquiry and purposeful projects in our Elementary School (ES). Building on this solid creative foundation, students who find a passion for art continue to create with a purpose in the Secondary School (SS), exploring new styles and media with their skilled teachers. The talents of our SS seniors were on full display at the Senior Visual Arts Exhibition held this March. The exhibition was an excellent opportunity for our students to showcase their exquisite pieces, as well as the stories behind them.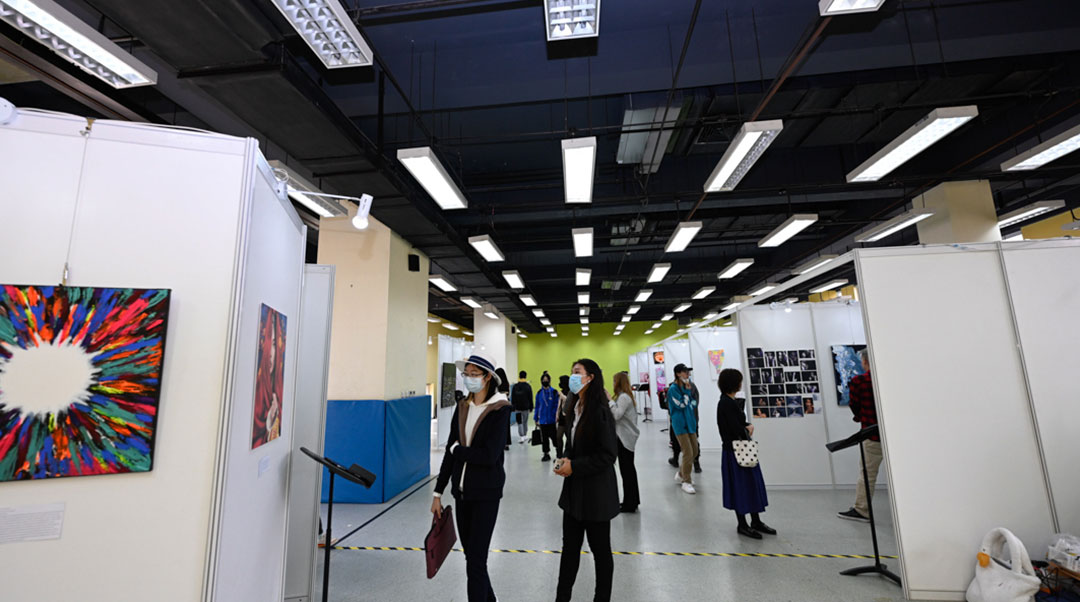 Wandering through the exhibition, our BCISers were struck with a sense of amazement and wonder at the beautiful works on display. Paintings, photos, multimedia sculptures, and even interactive exhibits turned our ID Gallery into an art museum as magnificent as any around Beijing. Our senior artists were eager to explain their creations, and the stories behind each unique piece. Their creative ideas brought new meaning to the art and left a lasting impression on their attentive audience.
One striking collection that jumped out at gallery goers was that of BCIS senior, Jiaxin. She took inspiration from her favorite literary source, Chinese scary stories, to create haunting images in her art. However, upon closer inspection, Jiaxin's works revealed a deeper meaning. "Behind every scary story is a real social issue. Many of the things that people fear come from real societal issues," explains Jiaxin. Her works go beyond the surface of their source material, to create a societal impact that will stay with the audience even longer than the creepy images. A primary reason Jiaxin's art carries such an impact is her own passion for philosophy, which she will pursue after graduation.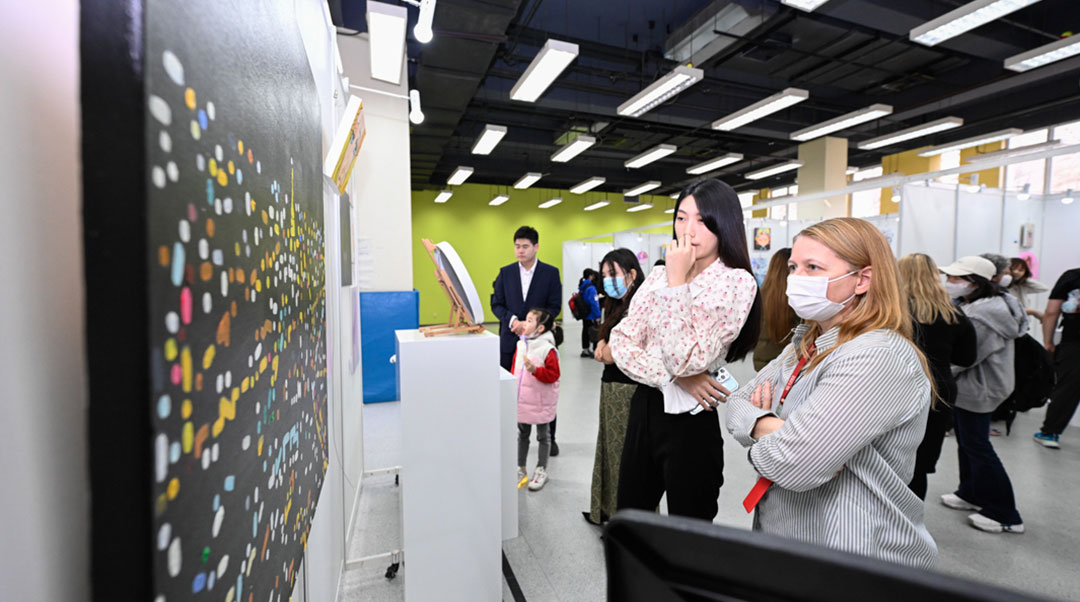 Another student combining art and the mind was Perry, whose photos and interactive exhibits intrigued many onlookers. Perry's art made a direct impact on the audience, as many of her works required audience participation. Perry's use of boxes and mirrors forced the audience to interact with others and see them in a different way, instead of looking directly at them. "If you don't go into other people's minds, you don't actually get to know them. Judging people from their appearance is reflecting your personal thoughts, instead of actually knowing who they are," Perry describes her intention to change perspectives through her exhibit. Her inspiration comes from her interest in psychology. Like Jiaxin, she will also go on to study a subject separate from art after graduation but will be able to continue using art as an integral form of expression.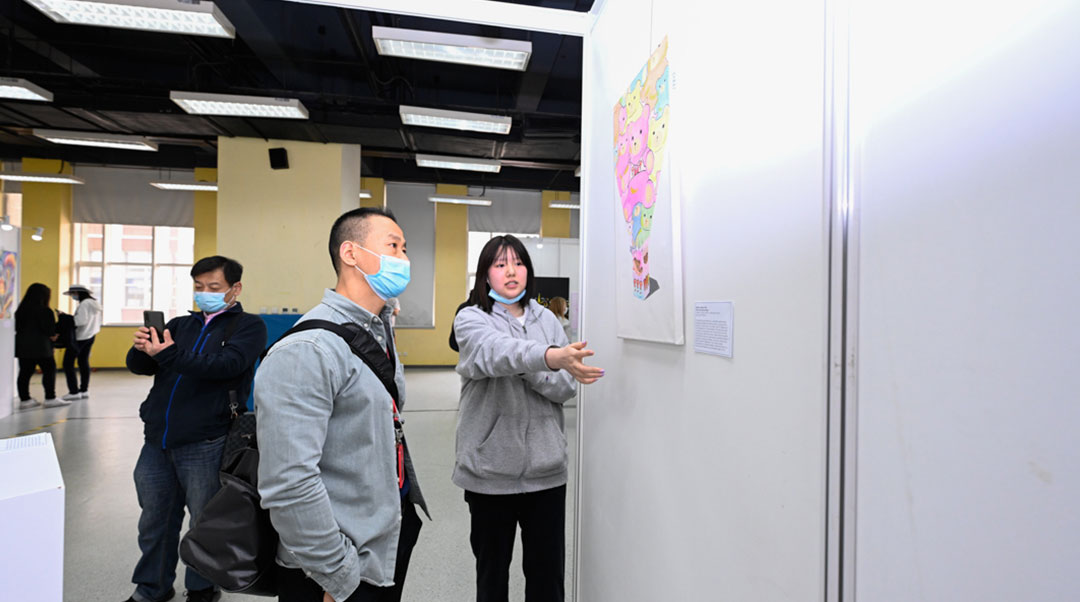 Ranky is another of our talented seniors whose interests extend beyond art itself. Although she plans to study media or economics after graduating, she sees these two fields as subjects with close ties to the art that she creates. "Art has a lot of overlap with other fields of study. For example, art is inseparable from media work," Ranky states. The art program at BCIS is not limited in its scope, and empowers students to truly explore their passions and interests, and embed them in their creations.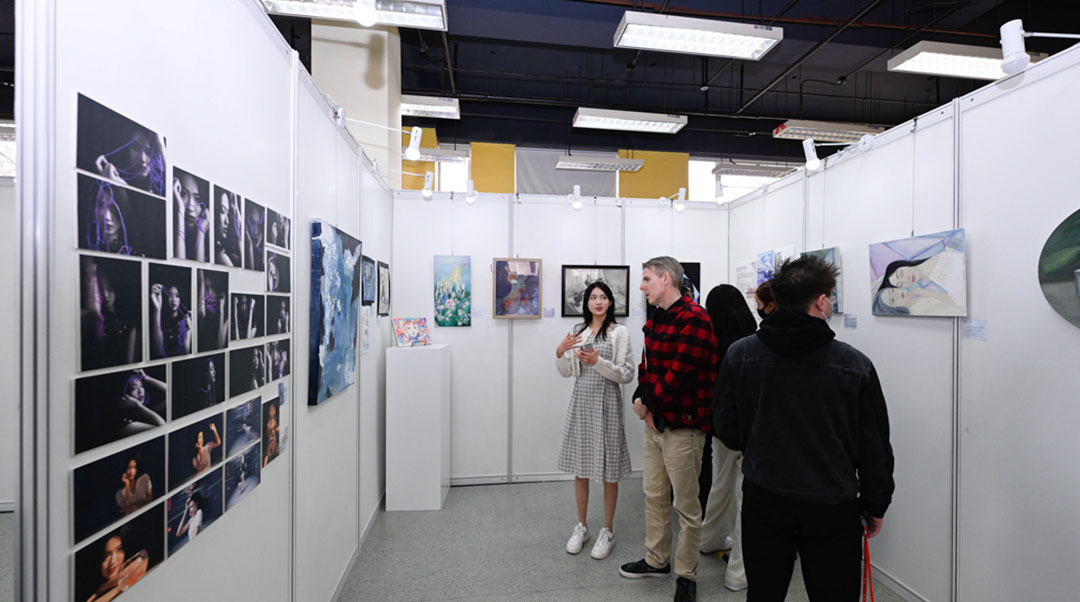 Our SS art teachers, Monique and Barbara, explain that the BCIS art program encourages students to explore different themes in their art. This focus on themes and meaning inspires students to combine their curiosities with their art and helps them become more creative thinkers. Fellow Grade 12 student, William, has created other excellent examples of the overlap between art and passions. He will go on to pursue art in game design, combining his fondness for games with his abilities as an artist.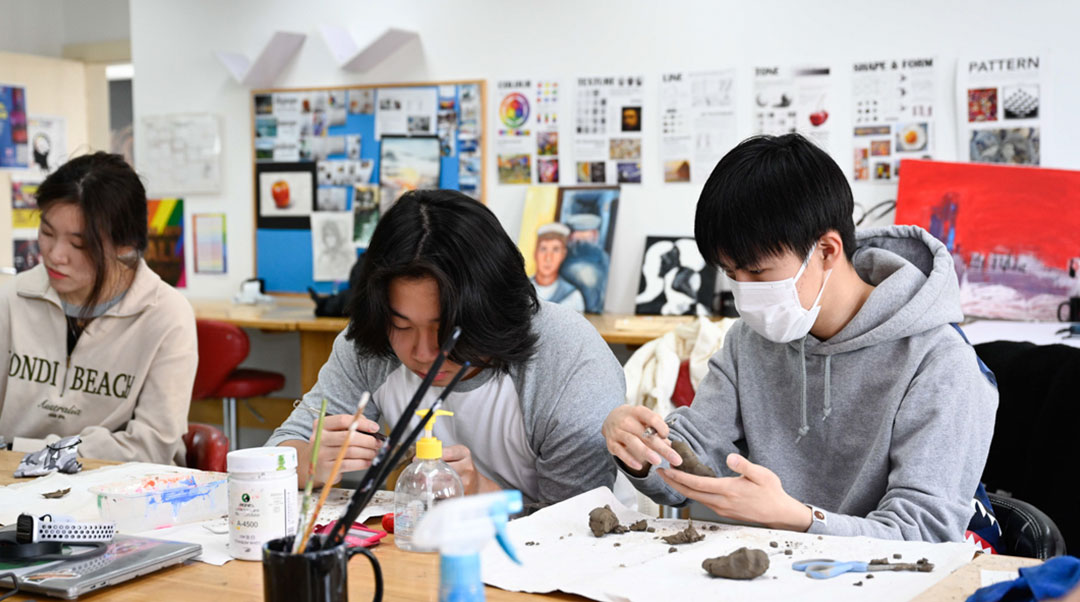 Our stupendous seniors will be able to transfer the skills and knowledge they have gained through the art programs at BCIS to any field they choose to pursue. Several of our soon-to-be graduates have even chosen to continue to explore art itself. Whether it be Jojo, who will go on to study stage management or design; Katrina, who will major in interior design; Wenlan, who wants to pursue fine art; or Angelica and Linda, who are both interested in art history, these BCIS artists will be well prepared for their futures. Whatever they go on to create, they will do so with purpose and passion, and continue to inspire others with their fantastic work!