Jun 17 2022
Congrats Class of 22!
Grady Singleton
Congratulations to our BCIS graduates from Class of 2022! Could commencement be an event as memorable as this class full of "distinguished personalities," as Class of 22 member, Christina, described her cohort in her welcome message? The celebration of our senior class turned out to be a fantastic event, full of wonderful music from our teachers and graduates, sagacious advice from school leaders, and touching excitement from everyone involved. Class of 22 has certainly left their mark on BCIS and will continue to bring their enthusiasm and passion all over the world!
Graduation started with a bang, literally, as the BCIS Teacher Percussion Ensemble put on a rhythmic performance with their tightly coordinated drumming to the tune of Tetsujin. Following welcome messages from students and our Head of School, Teacher Speaker Steven gave an intimate and humorous address to the group of students he knew so well from his time teaching English classes and coaching on the volleyball court. The musical talents of Class of 22 were on full display that afternoon, as they performed several rousing pieces. Class Valedictorian, Juyeon, delivered an inspiring speech to her peers, and BCIS alumni, Thilo (Class of 2012), and former teacher, Mr. Barry, both shared messages of encouragement to their BCIS fellows. Finally, as is tradition at BCIS, two graduating students, Qinglan and Tom, passed on their wisdom to representatives of Class of 2023, Emma and Rosalind, in the Succession Ceremony, capping off a banner afternoon!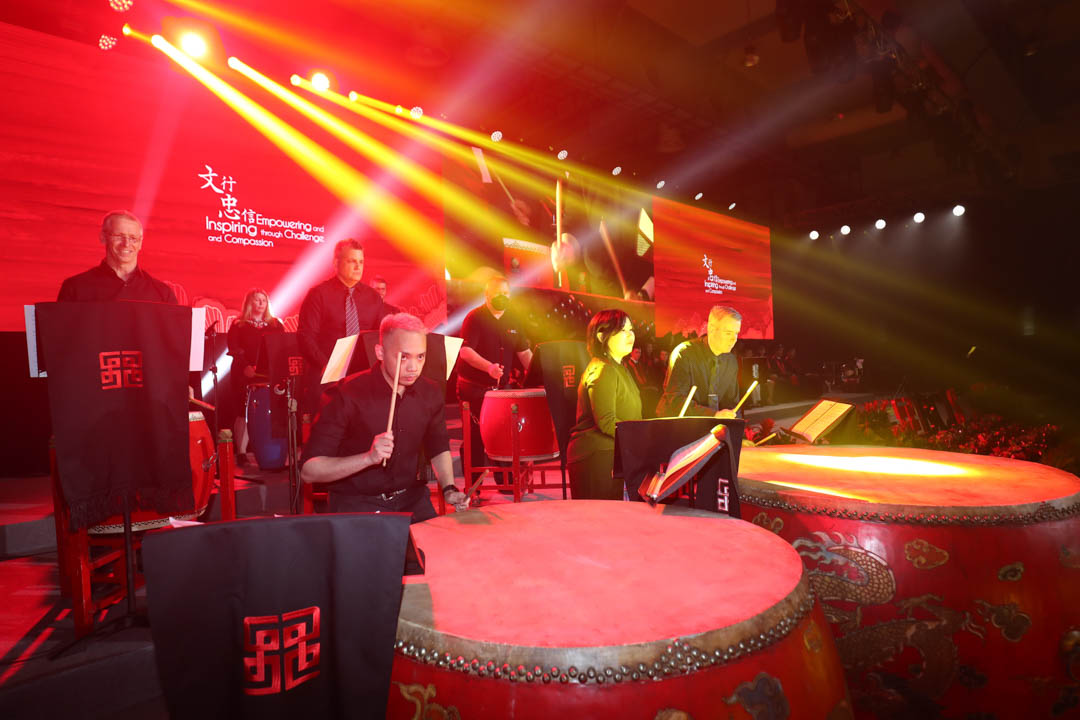 Memorable Advice from Graduation:
"P. Be unfailingly Polite; A. Attitude is important; L. Listen more than you speak. PAL. Polite, Attitude, Listen." – Tom (Head of School)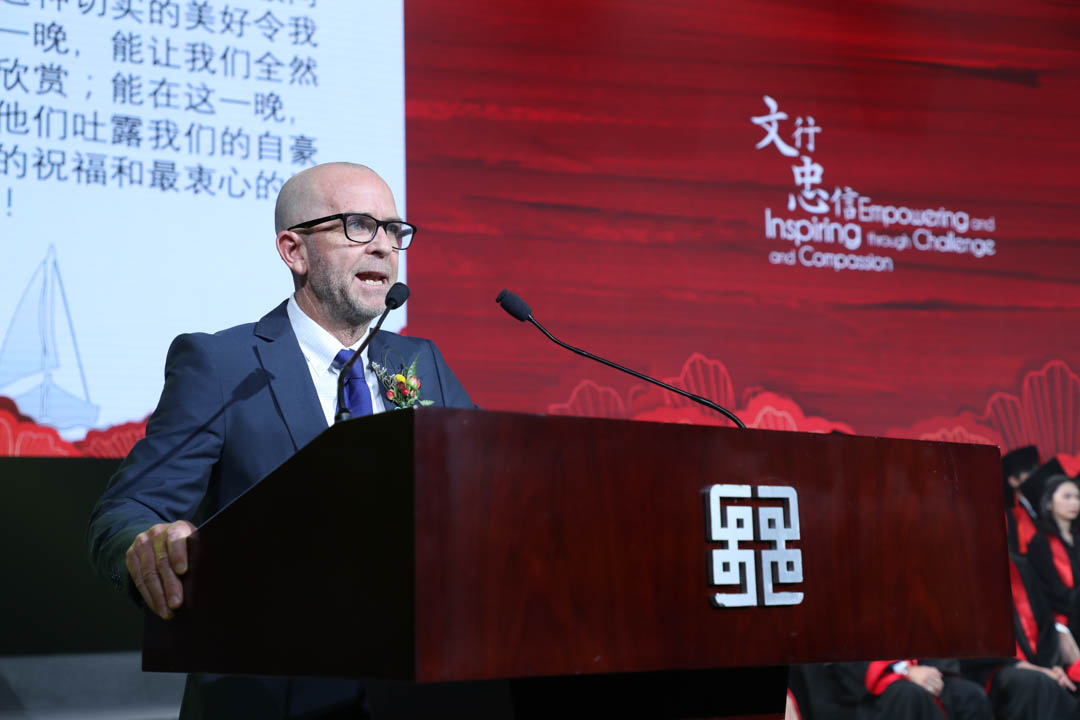 "Responsible. Studious. Humorous. Compassionate. These are the words that best illustrate our class." – Christina (Class of 2022)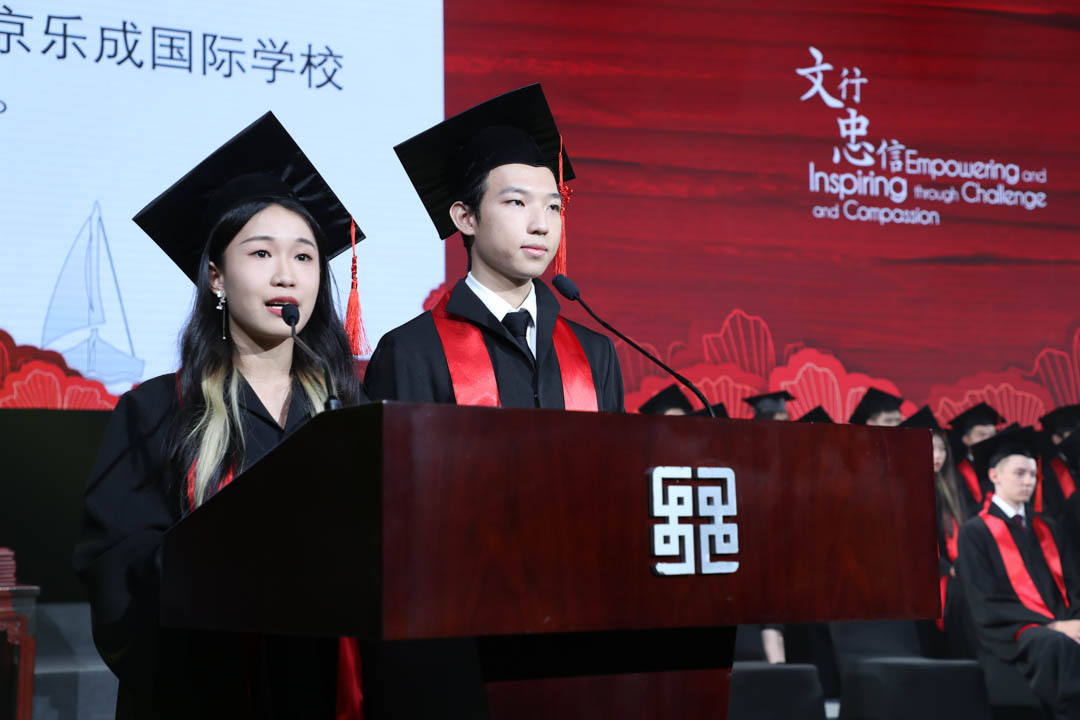 "The first message: you need to find something to do in your spare time, some way to make sure you are taking care of yourself mentally and physically. The second message: take the time to hit pause. Look around and enjoy the moment." – Steven (Teacher Speaker)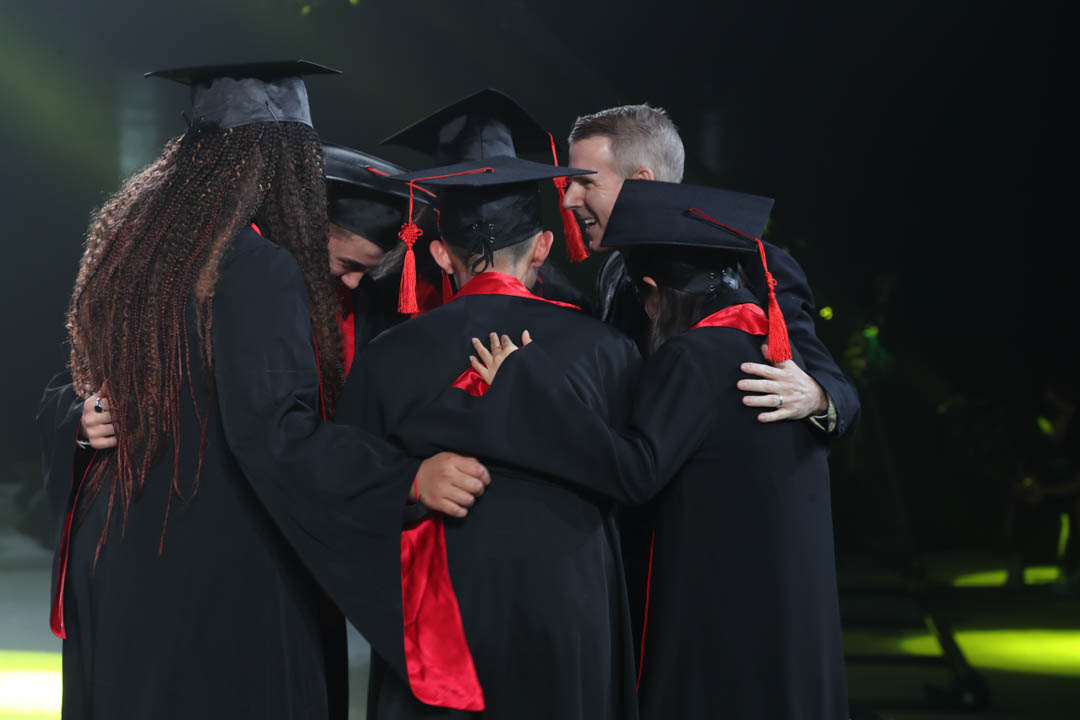 "Although we all met each other as strangers at different points in our high school journey, we now depart as a family with all the precious, invaluable memories rooted deep inside our hearts." – Juyeon (Class of 2022)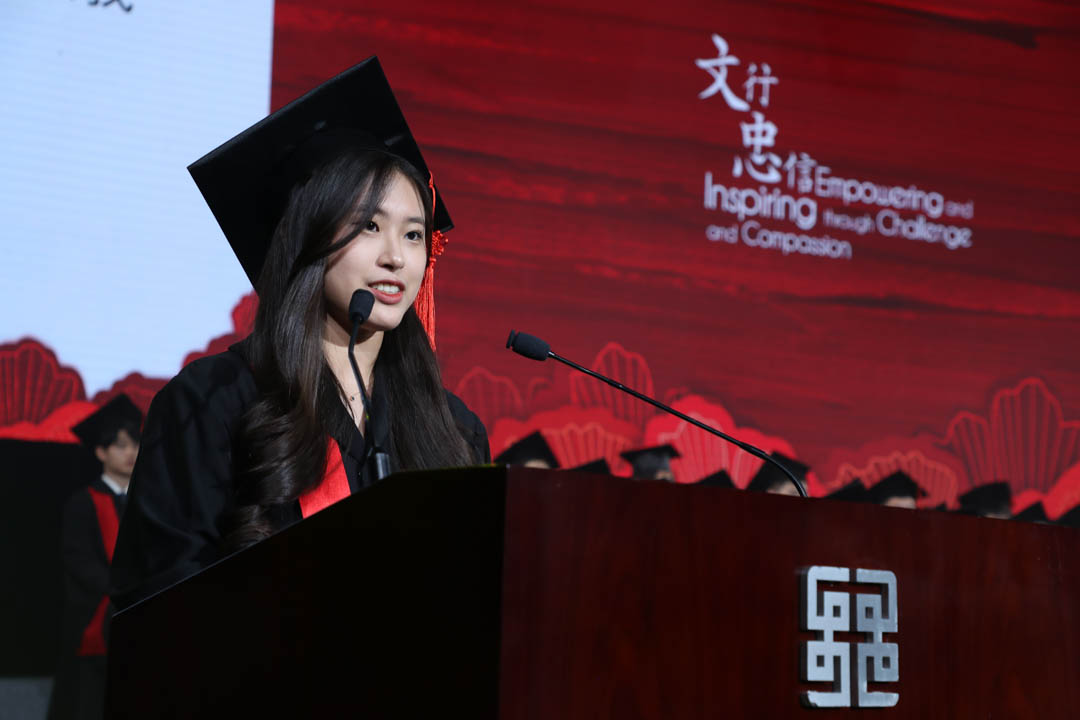 "You will face many hard decisions in your life, from what to study and what university to go to, to where to devote your career. I always follow my passions, and this was not always easy. What matters most to you will likely change over time. As long as you listen to what matters within you will find your way." – Thilo (Class of 2012)
"Imagination is such a fun thing because you can do anything. And isn't that what we are doing here? We, you, are imagining your preferred future and you can do anything you want because your superpower is that you are a BCISer. You are compassionate and inspired and you act for the good of all – that is who you are." – Mark (Secondary School Principal)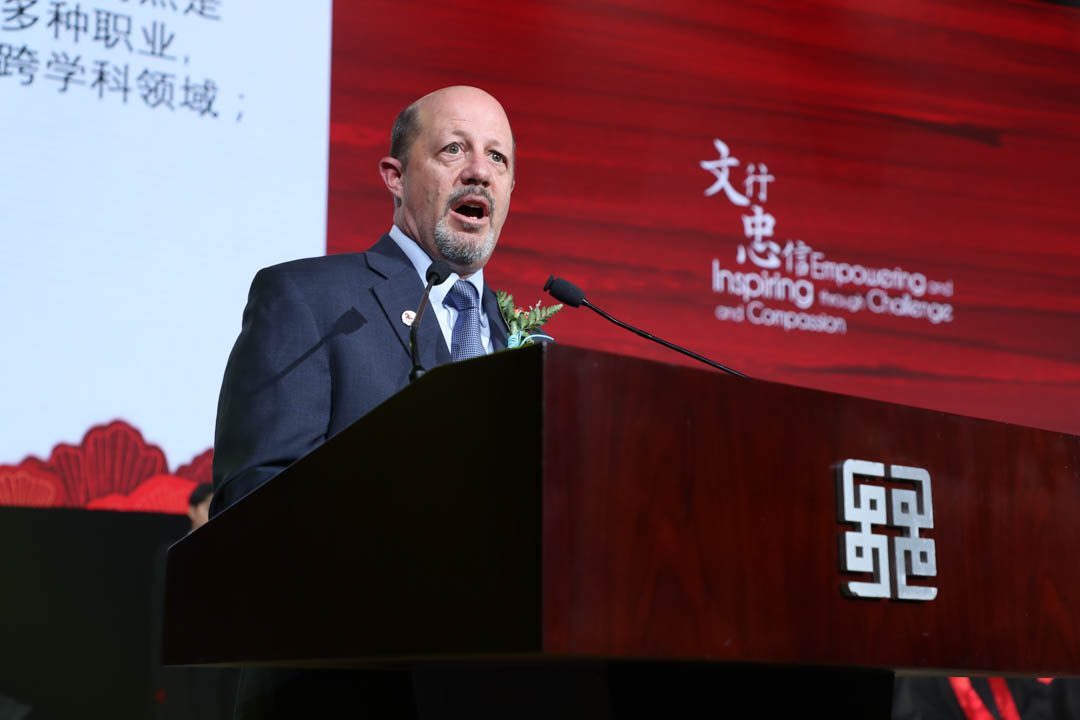 "To the class of 2023, there will inevitably be hard times in your senior year. Sometimes you might feel that a minor problem, like losing your pen, is the end of the world. But cracking a joke and laughing it off together can help you get through any challenge, big or small." – Tom (Class of 2022)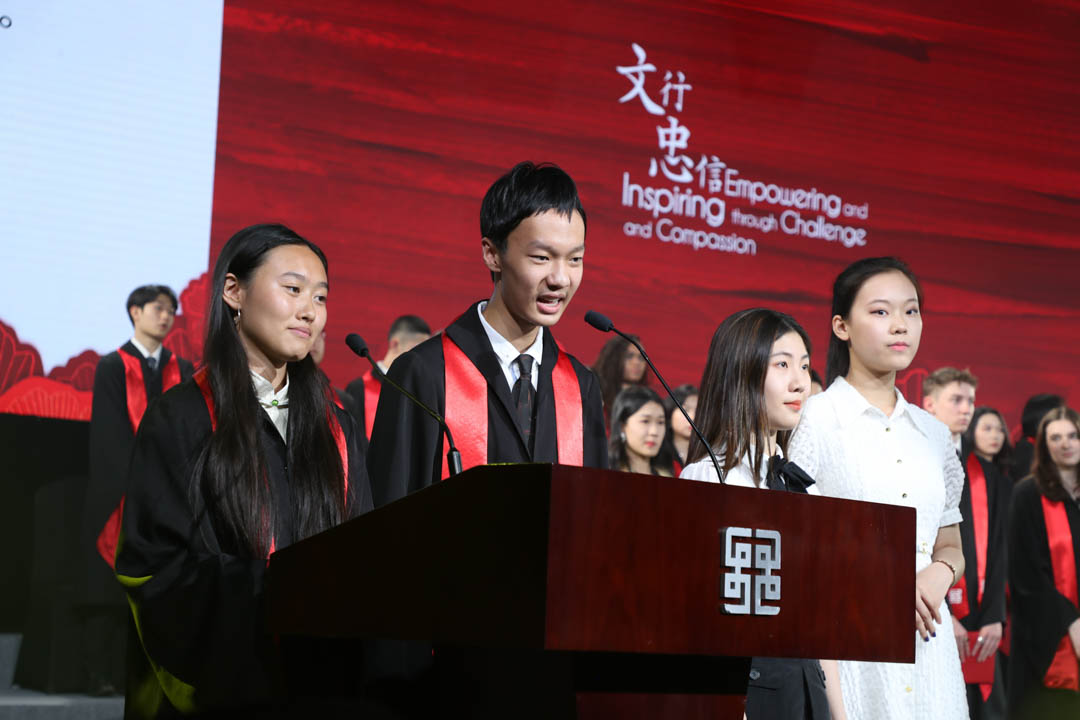 BCIS "Lifers"
"Lifers" are students who have been with us since nursery, Pre-K, Kindergarten or First Grade and have completed all of their schooling at BCIS.
With us since Pre-K: Helen (Titi)
With us since Kindergarten: Laure
With us since Grade 1: Nora, Jacob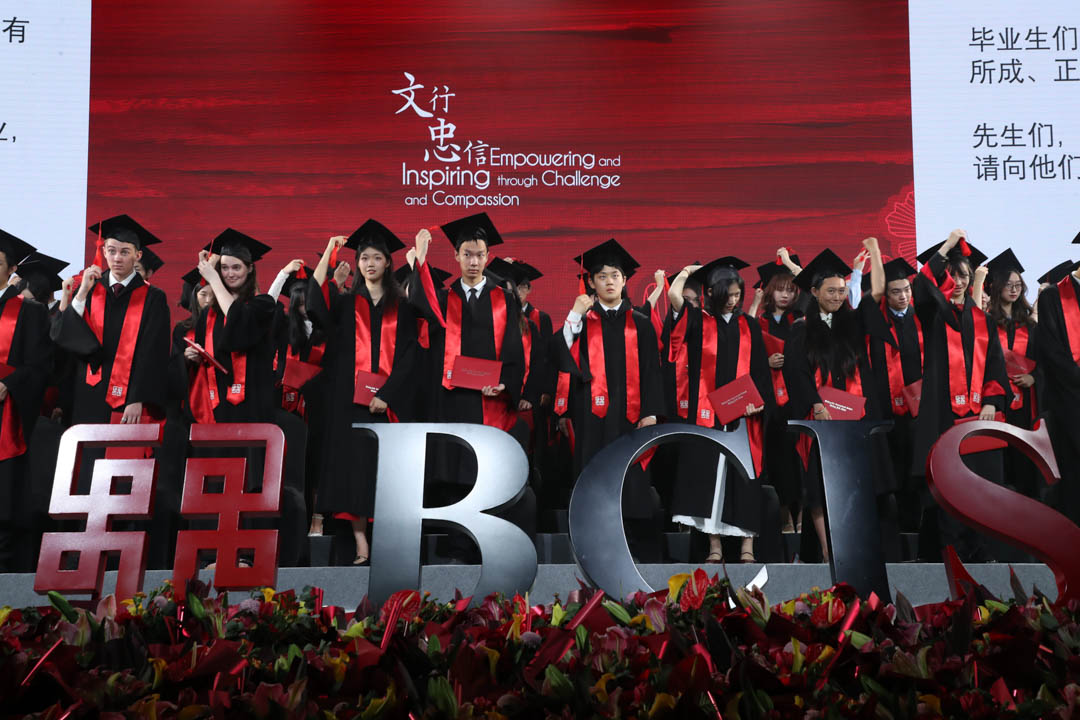 Class of 22 Scholarship Students:

Juyeon, Qinglan, Hower, Tom, Linda, Helen (Titi), Wallington, Chris, Katrina, Christina, Simon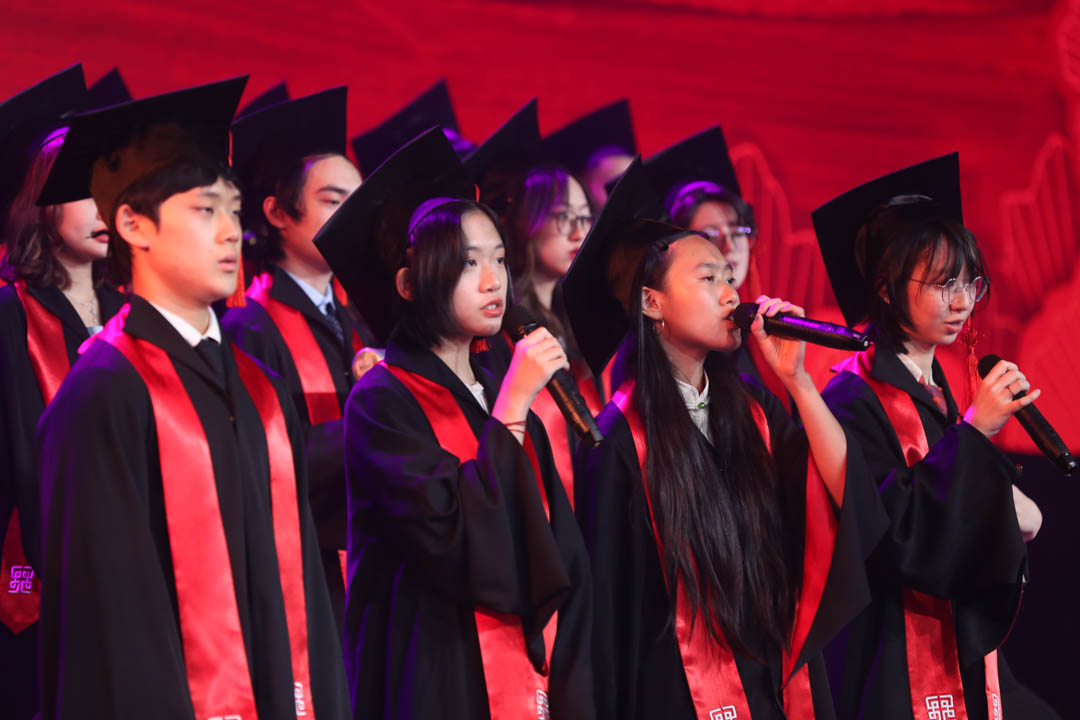 The fanfare of the 2022 Graduation Ceremony certainly lived up to the entertainment the Class of 22 has brought to BCIS over the years. We once again congratulate our graduates on all that they have achieved inside and outside of the classroom. The BCIS community cannot wait to see the amazing accomplishments you will go on to achieve, living out the mission of acting for the good of all and for the sustainable development of the world. Wherever you go and whatever you do, you are always a part of this tightknit and supportive community. Welcome to BCIS Alumni Network – once a BCISer, always a BCISer! Congrats Class of 2022!