Jun 02 2023
A Unique Celebration of a Unique Graduating Class
"To challenge and empower students to be compassionate and inspired people who act for the good of all and the sustainable development of the world" is the BCIS mission. This year's graduating class has no shortage of compassion and inspiration and has certainly faced their fair share of challenges. Although their road to donning their caps and gowns and taking the stage hasn't always been easy, the Class of 2023 has always used their ingenuity to overcome every challenge and create a better school environment for themselves and their peers. Congratulations to the Class of 2023 and thank you for all the memories and inspiration you have given BCIS!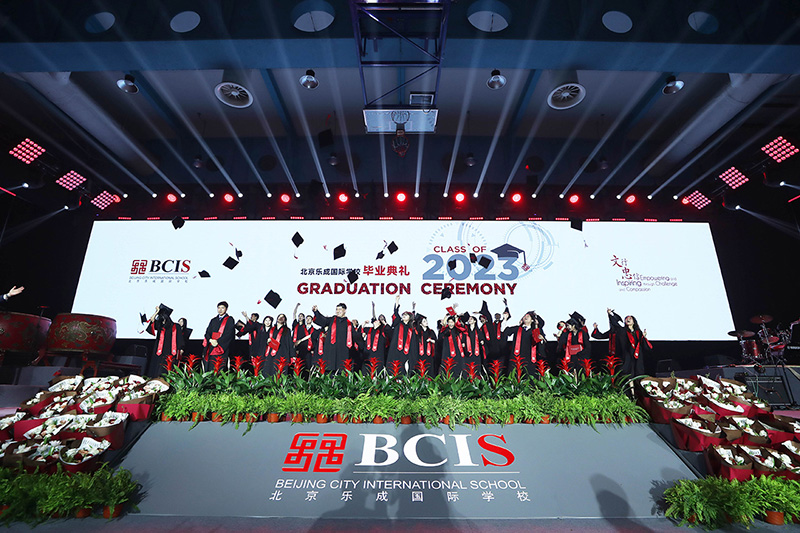 "While our brilliant academic achievements are worth celebrating, it was those difficult experiences that have shaped us into who we are now and what we are celebrating for – the resilient and determined young adults who are well prepared to face the world," explained Jessica Zhou, class valedictorian. While the Class of 2023 were academically excellent, with a lengthy honor roll of students, it will be their spirit of overcoming any challenge that will help them succeed at university and beyond. As Jessica stated in her speech, the graduate's priorities have already shifted from cramming for exams to picking formal attire for graduation. Soon these priorities will shift again as students travel the world to attend university, but the perseverance that the Class of 2023 has gained from their time at BCIS will stay with them long after they leave, much like the friendships and connections they have made at school.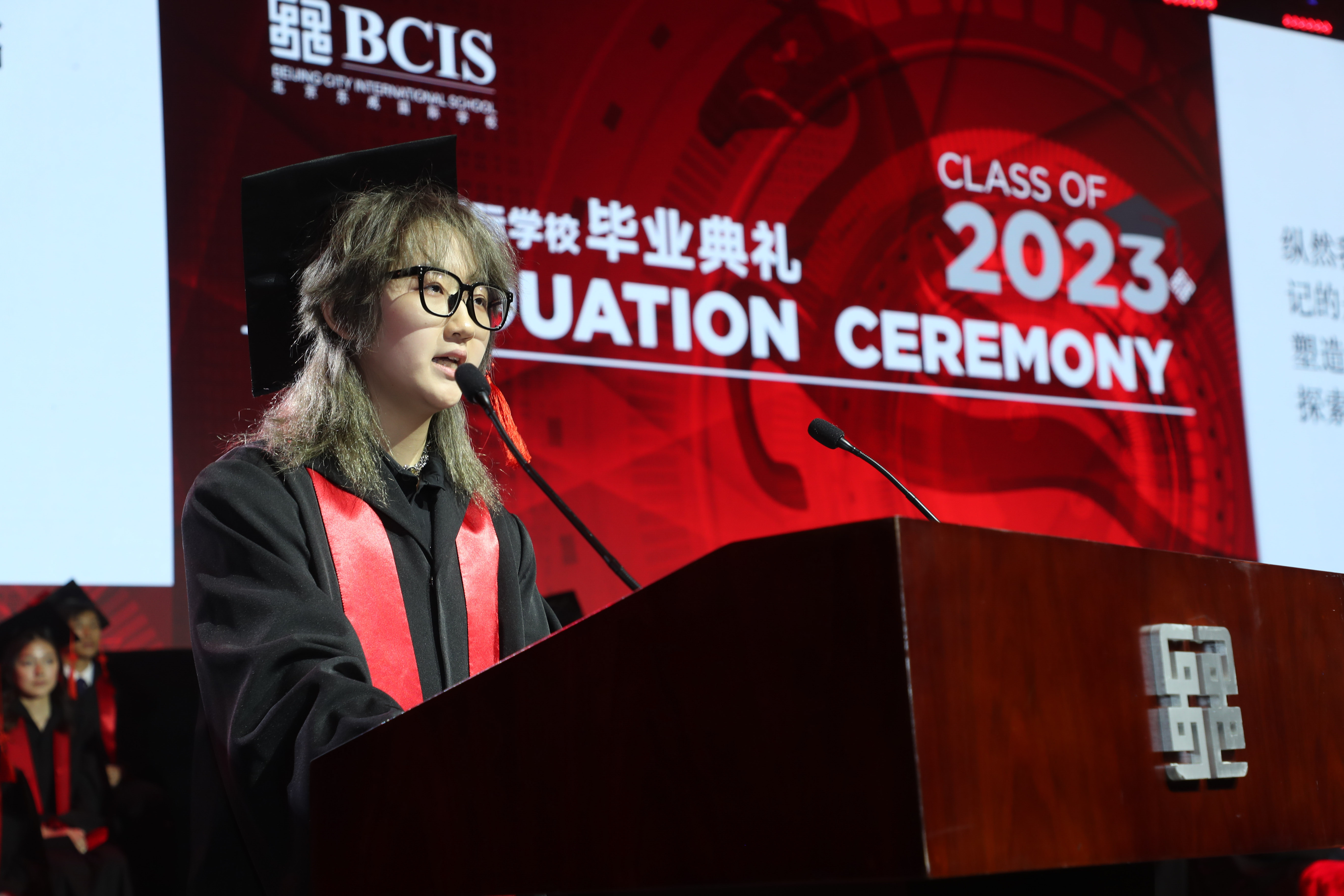 Where does the Class of 2023's resilience come from? Was it practiced during late night's frantically spent studying for exams? Or perhaps it was formed after bouncing back and forth between online and offline classes during the pandemic? For Mark, the BCIS Secondary School (SS) Principal, it was one of the BCIS learning impacts – creative thinking – that inspired the students. In addition to being "one of the happiest classes," Mark will remember the Class of 2023 for "the way they always look for creative solutions to difficult problems." This creativity has manifested in ways as diverse as the cohort itself, through academics, projects, charitable work, art, music and so much more.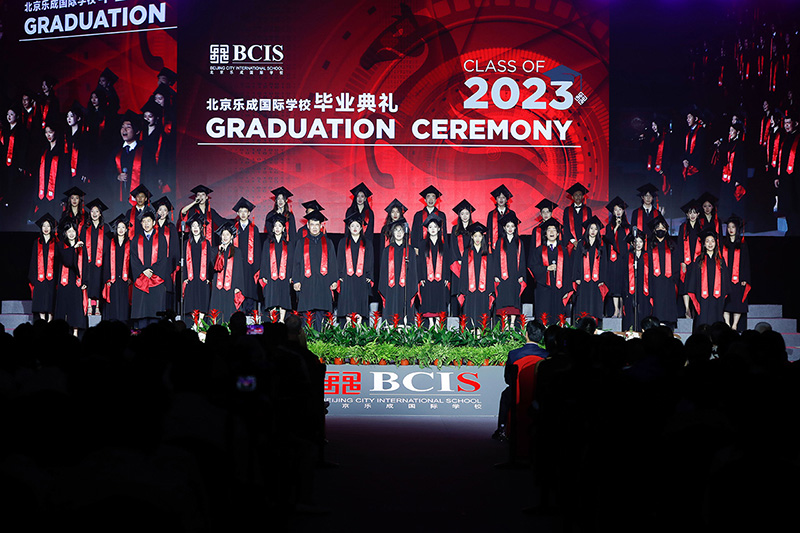 There is perhaps no better example of the creative collaboration embodied by the Class of 2023 than the student band performance at the commencement ceremony this past Sunday. Still draped in their black gowns and Warrior red regalia, guitars and drumsticks in hand, several graduates took to the stage for a final curtain call at BCIS. Performing a song composed by Melody with lyrics written by Vivian, the students gave an emotional performance dedicated to the rest of their class. These musicians have been a mainstay on the BCIS stage during their time at the school, and soon they will share their creative talents with new communities.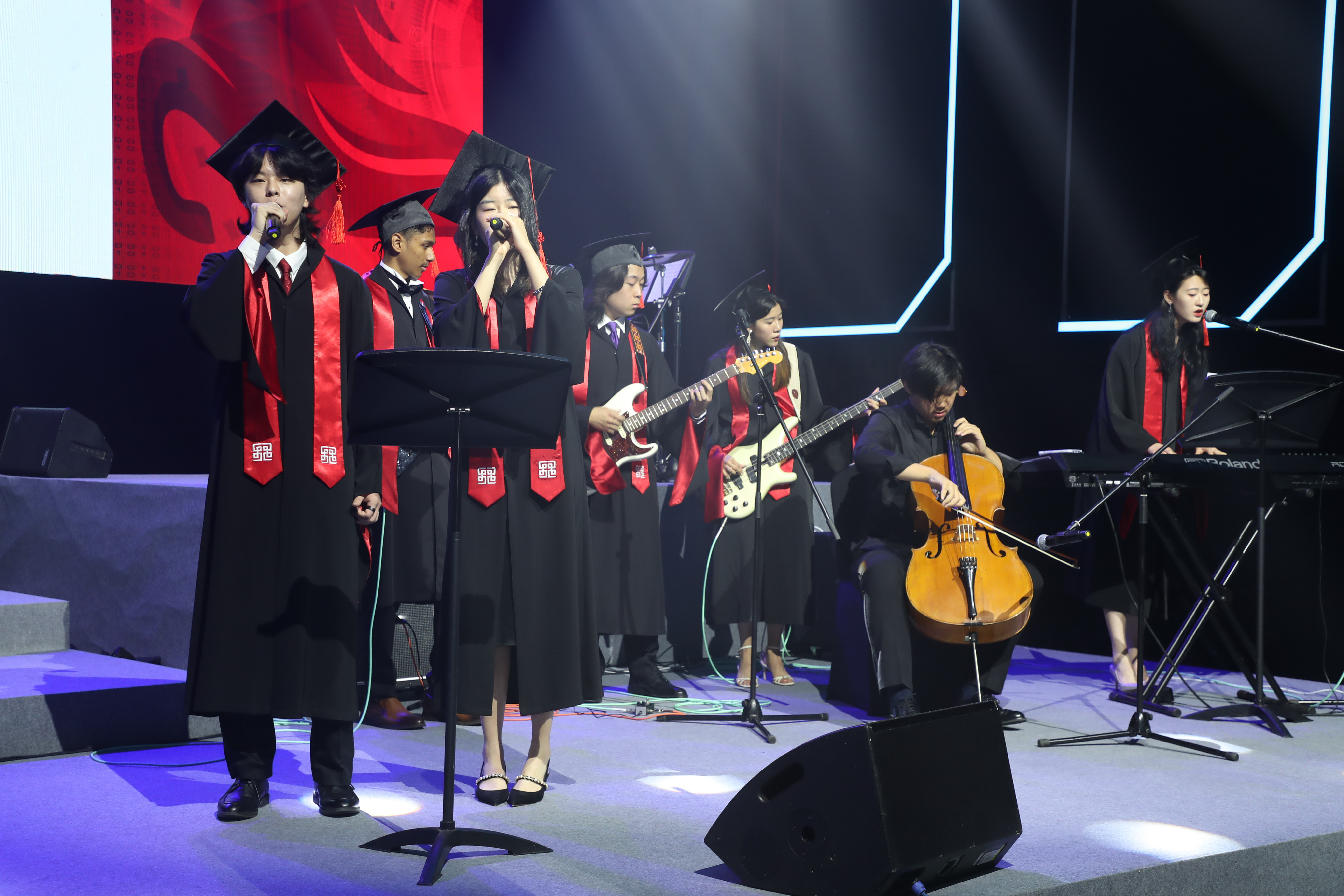 The graduates were not the only musicians to take the stage. Sihyun, a music teacher in the SS, gave a touching, amusing speech to her "munchkins" from the Class of 2023. After providing the Class of 2023 with some practical tips to prepare them for life at university, Sihyun left them with a final piece of advice: "there are a million different ways to unapologetically be you without confining yourself down to the norm or overachieve everything." With their unique personalities, the Class of 2023 will be sure to take this important advice to heart and share their wonderful personalities with the new friends they make at their next destinations.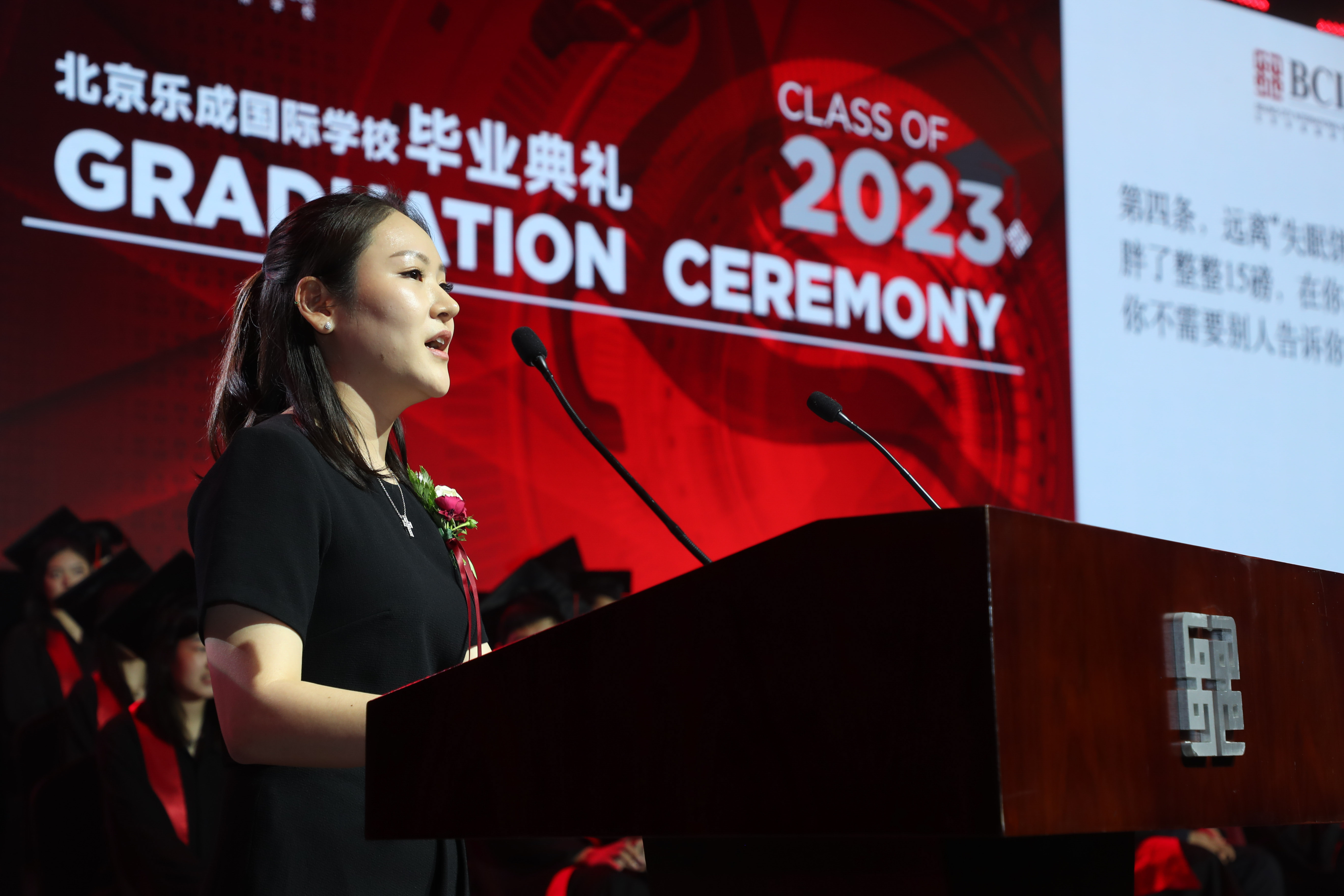 There was advice aplenty at this year's graduation ceremony, some of it coming from the students themselves. In the annual BCIS tradition of succession, members of the Class of 2023 advised the Class of 2024 to embrace humor, live in the moment and stay curious. BCIS alumni Andy, from the Class of 2013, also passed on his best wishes to the graduates. "Go out there in the world, and do not be afraid, because you will always have a group of people like me, the Alumni Network, the school, your parents and your friends to support you wherever you go," he told the graduates.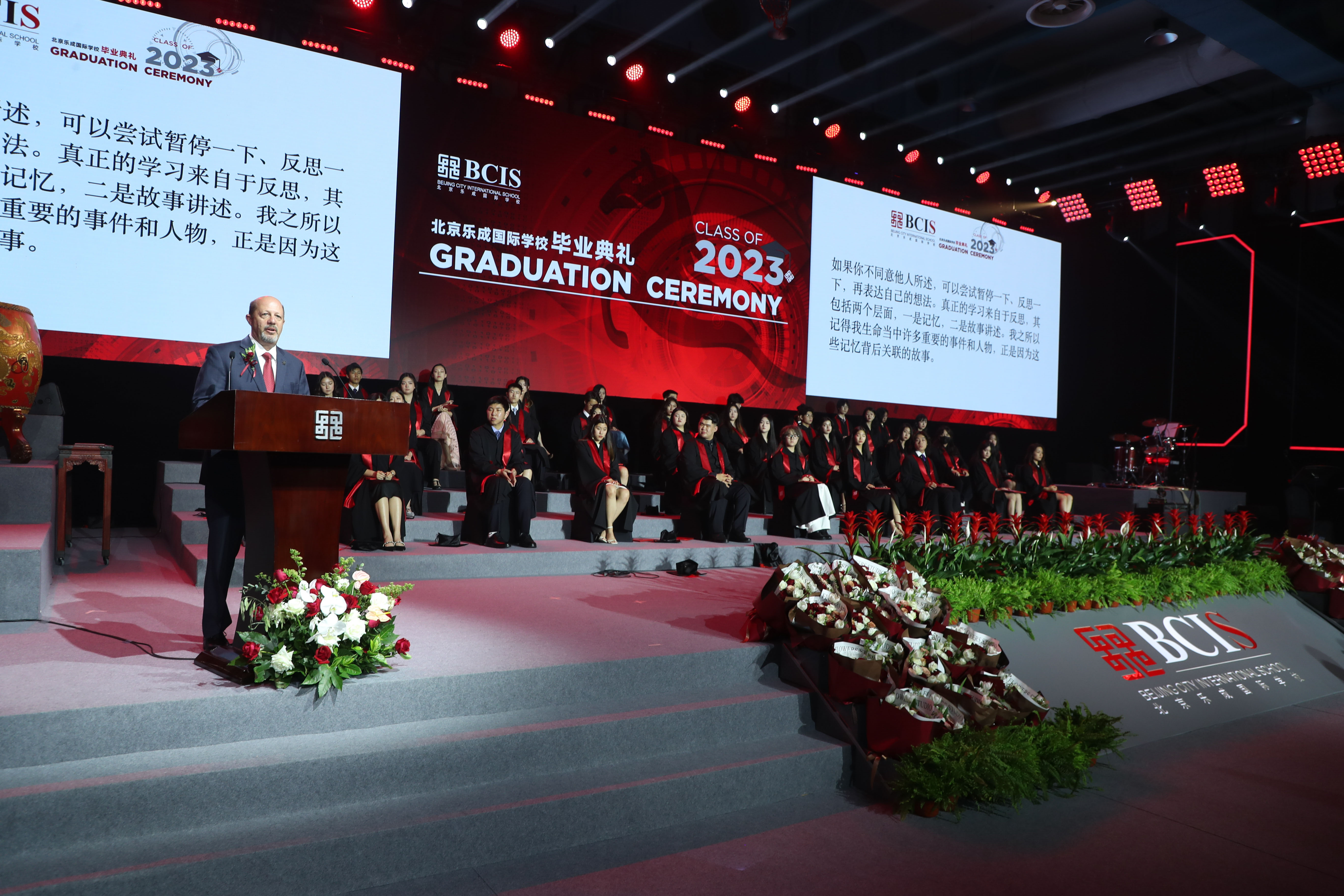 In his remarks to the Class of 2023, Head of School Tom encouraged the graduates to look for long-term happiness. "Rather than pursuing things like instant gratification, focusing on meaning, purpose, being authentic and personal growth will result in a more sustainable sense of wellbeing," he elaborated. This year's graduation was certainly a happy occasion, and the bonds the Class of 2023 have formed during their time at BCIS as well as the robust and supportive Alumni Network they are now joining will contribute to their long-term wellbeing. Congratulations Class of 2023! Maintain your determination and continue to be you wherever you go! Stay connected with your fellow alumni and come back to visit us soon – once a BCISer, always a BCISer!